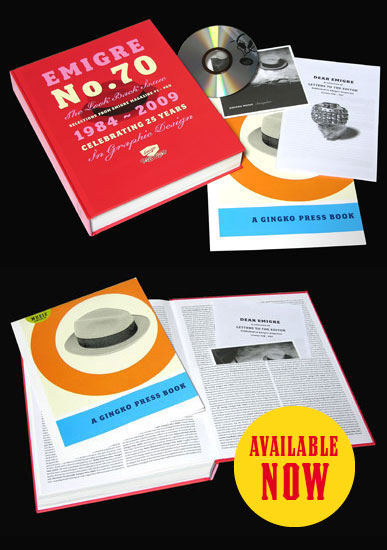 Emigre No. 70 - The Look Back Issue
Selections from
Emigre
Magazine #1 - #69
It's here!
Finally, after years of planning, research, negotiations, editing, design and production, printed copies of the
Emigre No.70
book have arrived at our warehouse.
This 512-page book, designed and edited by Emigre co-founder and designer Rudy VanderLans, is a selection of reprints that traces Emigre's development from its early bitmap design days in the mid 1980s through to the experimental layouts that defined the so-called "Legibility Wars" of the late 1990s, to the critical design writing of the early 2000s. Featuring interviews with, among others, The Designers Republic, Allen Hori, Rick Valicenti, Vaughan Oliver, Mr. Keedy, Ed Fella, and essays by Lorraine Wild, Anne Burdick, Zuzana Licko, Kenneth FitzGerald, Andrew Blauvelt, Kalle Lasn, Rick Poynor and many more.
The book also includes the following bonus material:
32-Page booklet of Letters to the Editor
CD with select audio tracks and video
15" x 20" Commemorative poster (see image below)
Attention collectors:
A limited number of 200 copies of the first edition of the Emigre book will be signed and numbered by Emigre founders Rudy VanderLans and Zuzana Licko. These limited edition copies are sold on a first come first serve basis and are sold only on the Emigre website.
Regular edition: $49.95
Signed and numbered edition: $60.00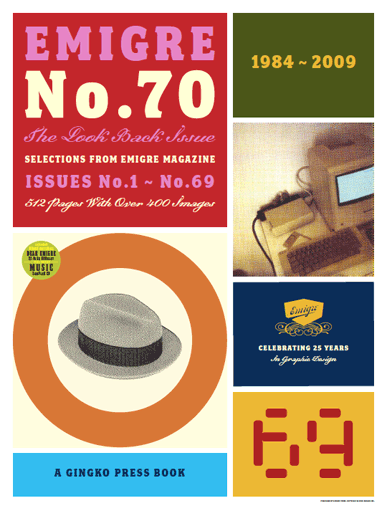 How to Order

To order any items announced in this email click on the links in the text above or go to:
http://www.emigre.com
(Please do not send orders to the auto reply address.)
To order via fax; print out the
fax form
.
Address Corrections

Help us keep our email and mailing lists up to date. You can change your email address, or take yourself off our mailing list
here
.
Your ID number is: 820924
Remove yourself from Emigre News
here
.
Contact Emigre

Emigre, Inc.
1700 Shattuck Ave., #307
Berkeley, CA 94709, U.S.A.
Email: sales@emigre.com